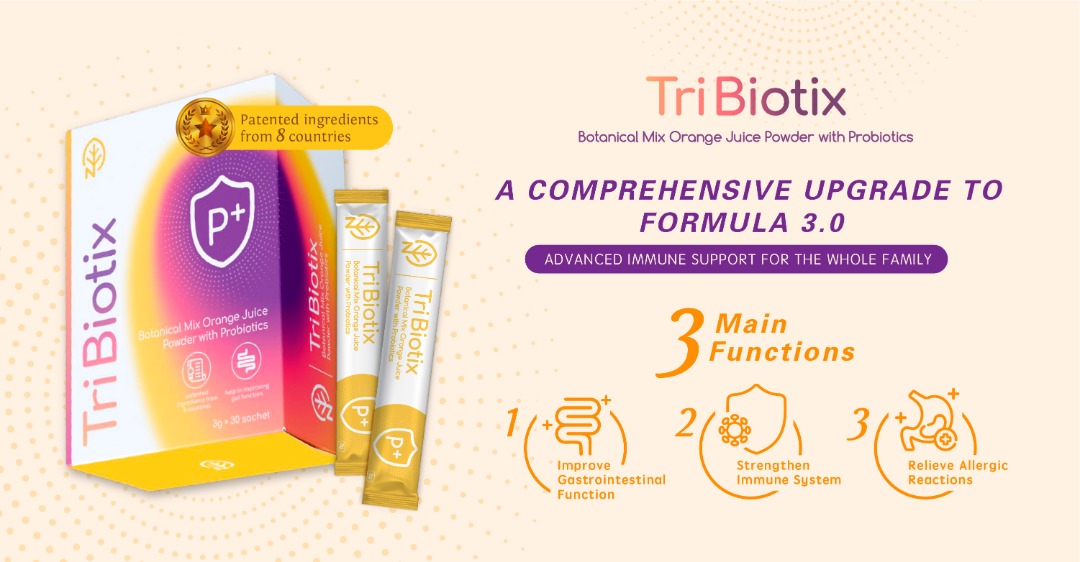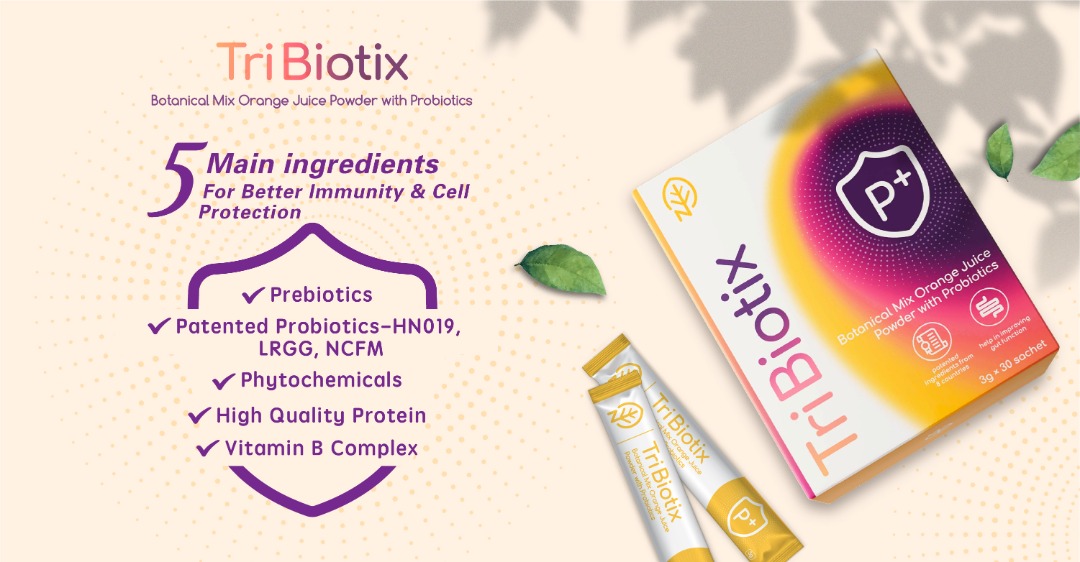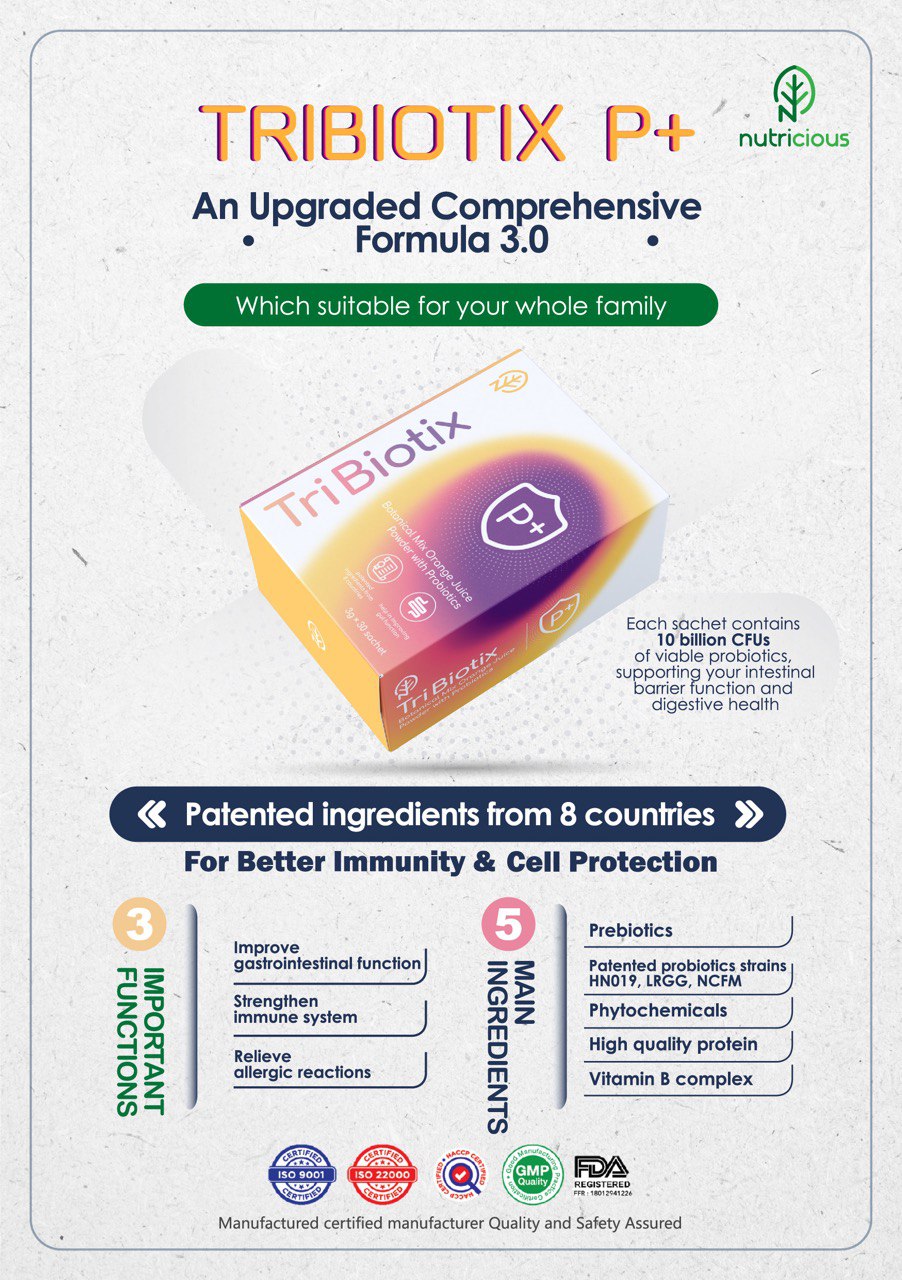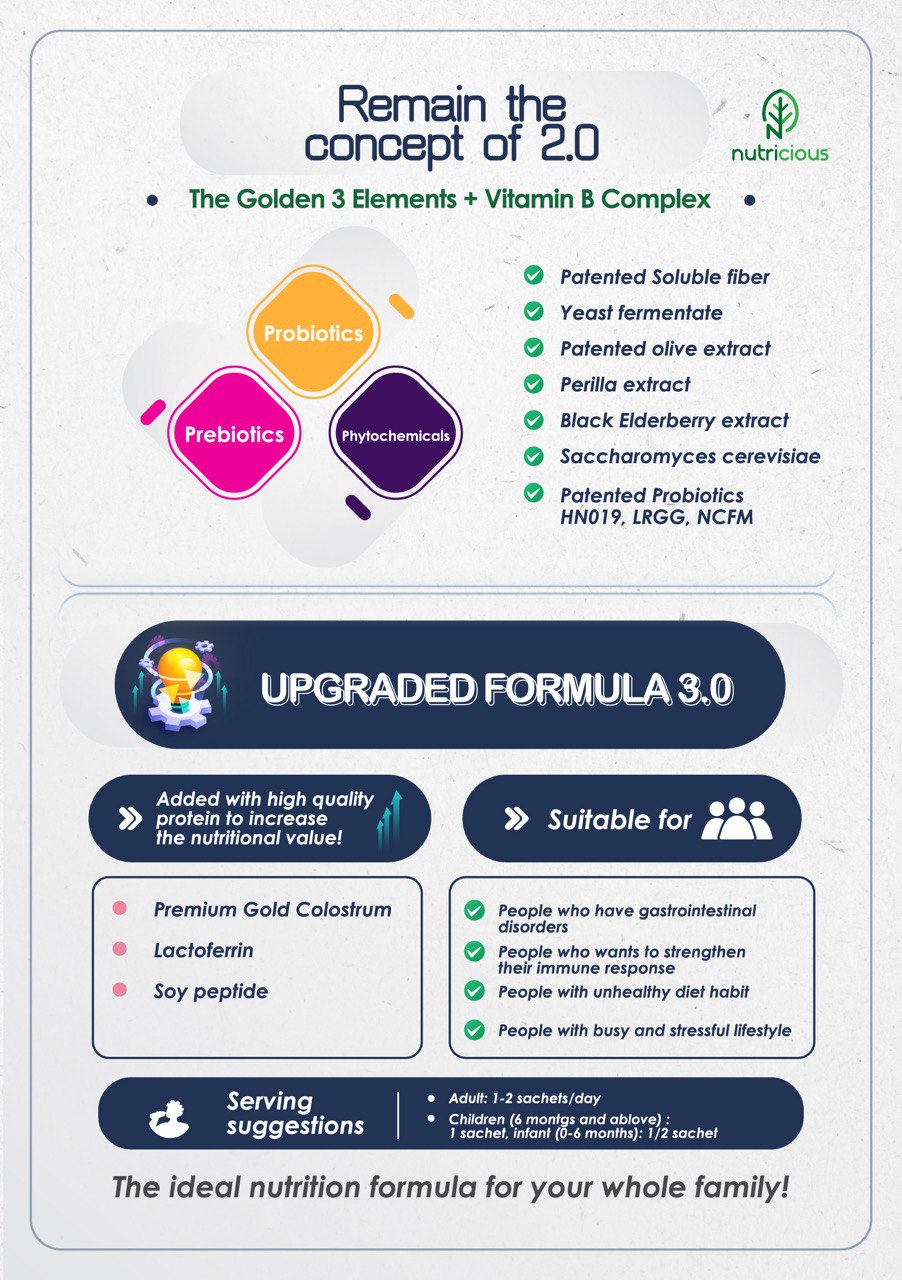 TriBiotix P+ (Botanical Mix Orange Juice Powder with Probiotics) Q&A
Q1 WHAT ARE THE BENEFITS OF TRIBIOTIX P+ ?
A: 70% of the immune cells are present in the gut, and it is important to keep your gut microbiota in balance to stay healthy. Keeping the gut healthy is the key to ensuring good digestion, absorption, metabolism, and a healthy immune system. Tribiotix P+ consists of probiotics, prebiotics, phytochemicals, micronutrients, and high-quality protein which are able to regulate body functions and improve overall health condition.
Q2 WHAT ARE THE ADVANTAGES OF TRIBIOTIX P+ ?
A: Tribiotix P+ is a botanical mixed orange juice powder specifically designed for the needs of our Micro Physiological Assessment (MPA). Our latest 3.0 Tribiotix P+ contains 3 important elements, including probiotics, prebiotics, and phytochemicals. In addition, it is included with high-quality proteins (soy peptides, lactoferrin, and colostrum) to strengthen our immunity. Tribiotix P+ provides energy to the cells and strengthens immunity in the gut, and it is suitable to use as a daily nutritional supplement for you and your family.
Q3 WHAT IS THE CFU COUNT OF TRIBIOTIX P+ ?
A: Each sachet of Tribiotix P+ contains 10 billion CFUs of viable cells to support your gut health.
Q4 WHO IS SUITABLE TO CONSUME TRIBIOTIX P+ ?
A: Tribiotix P+ helps to keep your gut healthy and strengthen your immunity. It is suitable for:
• Those who experience gastrointestinal discomfort
• Those who want to strengthen their immune system
• Those with poor eating habits and eat out often
• Those with a busy and stressful lifestyle
Q5 WHO IS NOT SUITABLE TO CONSUME TRIBIOTIX P+ ?
A: Tribiotix P+ is suitable for most people of all age groups. However, for the following specific groups, please consult your doctor, nutritionist, or other healthcare professionals before consuming it.
• Pregnant women, breastfeeding women
• People with special health conditions/people who are on long-term medication
• People who are allergic to milk or dairy products (contains colostrum)
Q6 IS TRIBIOTIX P+ SUITABLE FOR VEGETARIANS?
A: Tribiotix P+ contains probiotics, prebiotics, phytochemicals, micronutrients, as well as high-quality protein (colostrum is present). Tribiotix P+ is suitable for vegetarians who are allowed to consume milk and dairy products. For vegans, kindly make informed choices on choosing nutritional supplements that suit your needs and requirements.
Q7 HOW TO CONSUME TRIBIOTIX P+ AND WHAT IS THE SERVING SUGGESTION?
A:
1. Pour 1 sachet of powder directly into your mouth, or mix it with room temperature water.
2. Consume it on an empty stomach, preferably half an hour before meals or 2 hours after your meals. Other than that, it has to be taken at least 2 hours apart from your medications.
Serving Suggestion: Adults: 1-2 sachets per day.
If you have any inquiries, please feel free to consult MJ's health management consultant.
Q8 CAN I TAKE A HIGHER DOSAGE FOR BETTER EFFECT?
A: The recommended dosage is as stated in No. (7), and it is important that you consult your doctor or health management consultant before adjusting the dosage. Moreover, bear in mind that both taking care of your health persistently and having regular health screenings are extremely important. Hence, it is recommended that you visit us at MJ Health Screening Center for a comprehensive health screening with Micro Physiological Assessment (MPA) to understand your health condition better. Our health management consultants will advise you on your diet and exercise plan, at the same time recommend suitable nutritional supplements based on your needs.
Q9 SHOULD I REFRAIN FROM COMBINING TRIBIOTIX P+ WITH OTHER HEALTH SUPPLEMENTS?
A: You may continue taking other health supplements while consuming Tribiotix P+.
Q10 IS THERE ANY FOOD I NEED TO AVOID WHILE TAKING TRIBIOTIX P+ ?
A: Refrain from taking foods that are high in fat, sugar, salt, and overly refined. This is to help in achieving overall health improvement regardless whether Tribiotix P+ is taken.
Q11 CAN TRIBIOTIX P+ BE CONSUMED LONG TERM? WILL THERE BE ANY SIDE EFFECTS?
A: Side effect refers to reactions of the body caused by certain medications. The same reactions will occur in anyone, and will not change over time. For example, some medications are prone to cause drowsiness. Tribiotix P+ is made from natural plant extracts, hence there will not be any side effects and it is safe for long-term consumption. Through the consumption of Tribiotix P+ nutritional supplements, we hope to help consumers to achieve better health. However, it must be emphasized that all kinds of nutritional supplements are only intended to support or regulate body functions. Thus, adequate exercise, a change in diet and lifestyle are still essential to achieve optimum health.
Q12 HOW LONG SHOULD TRIBIOTIX P+ BE CONSUMED TO SEE HEALTH IMPROVEMENTS?
A: Nutritional supplements are intended to improve health according to each individual's health condition. While the deterioration of metabolic functions is not formed in a day, it will take some time for the body to adjust and repair itself. Generally, red blood cells responsible for oxygen transportation have a life cycle of 120 days, therefore usually 3 months is the basic time frame, and do allow at least 6 months for overall health improvement. The more serious your health condition is, the longer the time it will take for health improvement. After all, health problems are not caused in a day. In order to improve health, not only nutritional supplements but adjustments in lifestyle, diet, and exercise are also important to improve health.
Q13 CAN I TAKE TRIBIOTIX P+ WHEN I AM HAVING MENSTRUATION?
A: Sure.
Q14 IS TRIBIOTIX P+ SAFE FOR CONSUMPTION?
A: Tribiotix P+ is produced by a manufacturer that is acknowledged with many food safety certifications, including GMP, HACCP, ISO22000 certification to ensure the quality and safety of the products. Hence, it is totally safe for consumption.
Q15 HOW TO STORE TRIBIOTIX P+ ? A: Tribiotix P+ is produced with high stability. Please store in a cool and dry place (below 30°C). If the sachet is not finished after it is opened, please keep it in a refrigerator (below 10°C) and finish it within two days.
Tribiotix P+

Tribiotix P+
(An Upgraded Comprehensive Formula 3.0)

Each sachet contains 10 billion CFUs of viable probiotics, supporting your intestinal barrier function and digestive health.

We have patented ingredients from 8 countries for better immunity and cell protection
3 Important Functions
Improve gastrointestinal function

Strengthen immune system
Relieve allergic reactions
5 Main Ingredients

Prebiotics

Patented probiotics strains HN019, LRGG, NCFM
Phytochemicals
Hight quality protein
Vitamin B complex