Datuk Lee Chong Wei's Special Limited edition

The value-added package comprises of
1. Lee Chong Wei travel trunk of premium quality
2. Ecoheal house hold special edition x 1 unit
3. Ecoheal for automobile x 2 units
4. Ecoheal for personal use (Portable) x 2 units
5. Set of 12 Royal Selangor Medals presented to Lee Chong Wei in his winning in the 12 championships during Malaysia Open Tournament
To bring global fans up close to the world's legendary badminton superstar. Ecoheal and the brand ambassador Datuk Lee Chong Weijointly launched the limited edition of the EcohealTM e-tree air sterilizer luggage package.

Datuk Lee Chong Weihas earned numerous international championships during his career, including 12 malaysian open titles, 6 japanese open titles and 4 all england open titles.
Medals Represents The Legendary Success Of Datuk Lee Chong Wei
To commemorate the outstanding achievements of Datuk Lee Chong Wei, Ecoheal has partnered with AiSportz, Malaysia's leading sportsman community platform. In collaboration with Royal Selangor, the world's largest pewter manufacturer.
Ecoheal has forged a limited edition of 12 medallions cut in the shape of a badminton ball. With unparalleled craftsmanship. Each medal represents the legendary success of Datuk Lee Chong Wei on his journey to the top of the badminton world and is engraved with the date of his victory and the autograph of our No 1 Malaysian badminton player.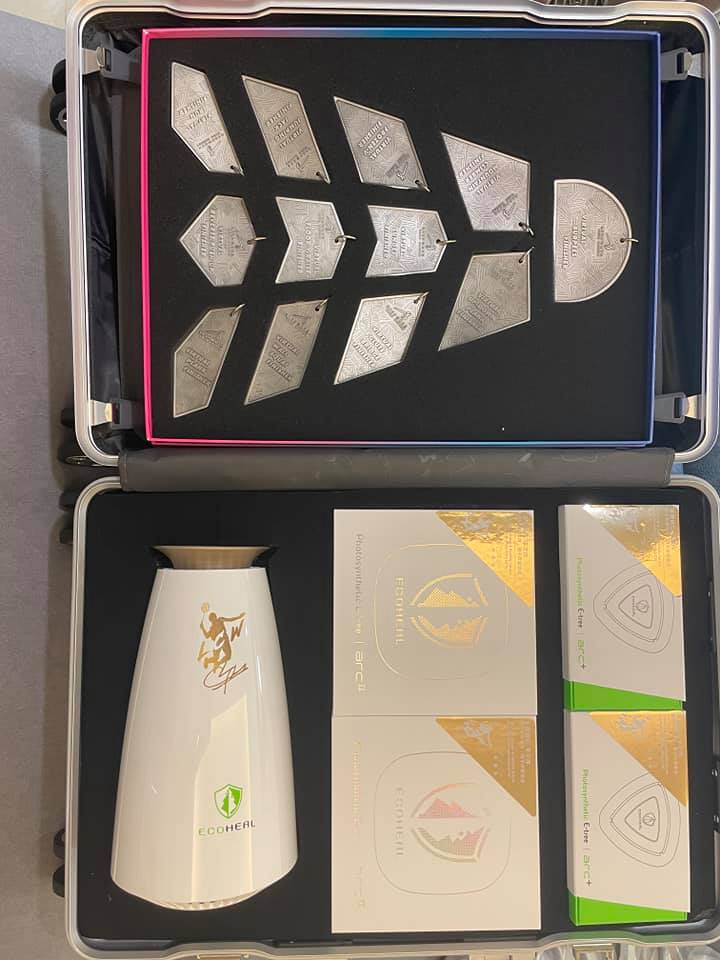 The 12 medals represent 12 challenges highlighting Datuk Lee Chong Wei's unsurpassed feat winning the malaysian open badminton championship 12 times. The unique collector's value allows fans to feel the self-discipline, dedication and determination of Datuk Lee Chong Wei on his journey to success. So that all will be accompanied by the spirit of Datuk Lee Chong Wei's encouragement to build a better you in the future!
Ecoheal e-tree Air Sterilizer
The limited edition of the Ecoheal e-tree air sterilizer luggage package includes a limited edition set of 12 AiSportz championship medals. It also comes with 3 models of a total of 5 units of the Datuk Lee Chong Wei's signature edition Ecoheal e-tree air sterilizers.
It is carefully assembled in a luxurious limited edition of multifunctional lightweight large capacity luggage. This limited package is a valuable and precious choice for collection, appreciation, commemoration business gift, etc.
EcohealTM e-tree air sterilizer is the most admired and most embraced germicidal air sterilizer by malaysian badminton champion Datuk Lee Chong Wei.
How Ecoheel E-tree Air Sterilizer Works?

With pure cleanliness and all-around protection to safeguard your health. The Ecoheel e-tree air sterilizer creates a new purifying environment to feel the unique purified atmosphere and enjoy good health.
Datuk Lee Chong Wei invites you to bring the forest home to create a Phytoncide space.
We provide you with protection beyond the level of epidemic prevention and guarding your family to enjoy a good life.

Ecoheal and Datuk Lee Chong Wei
Protection Of Your Air Quality, Anytime, Anywhere!