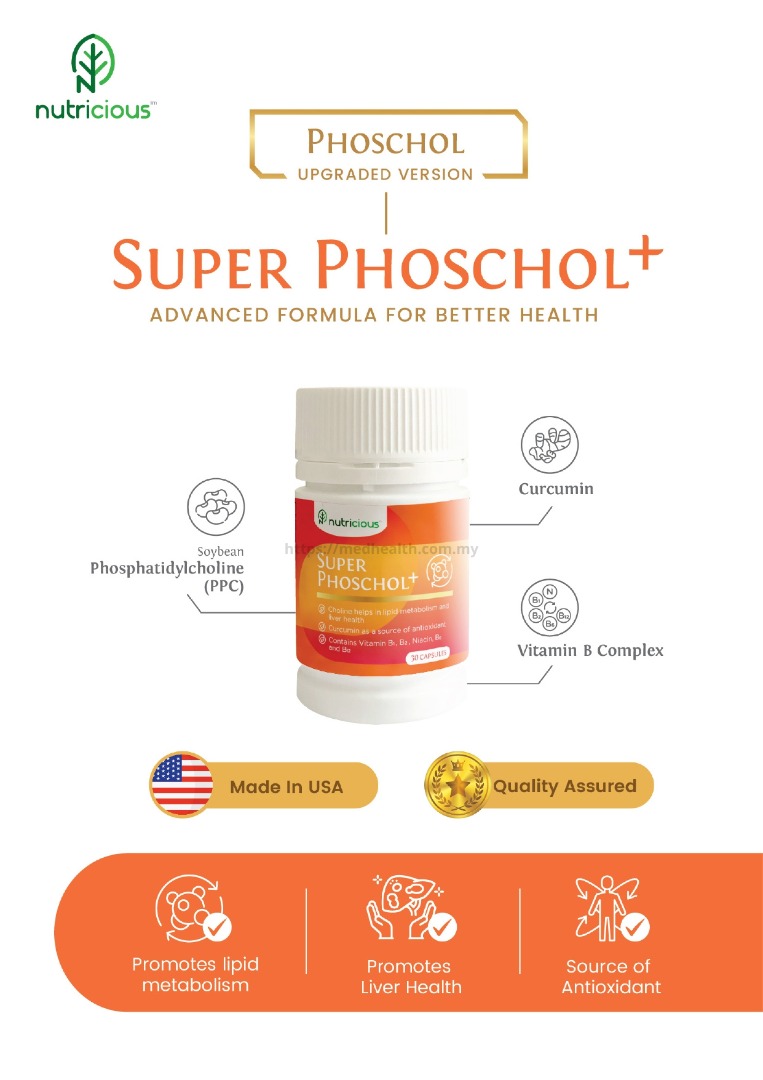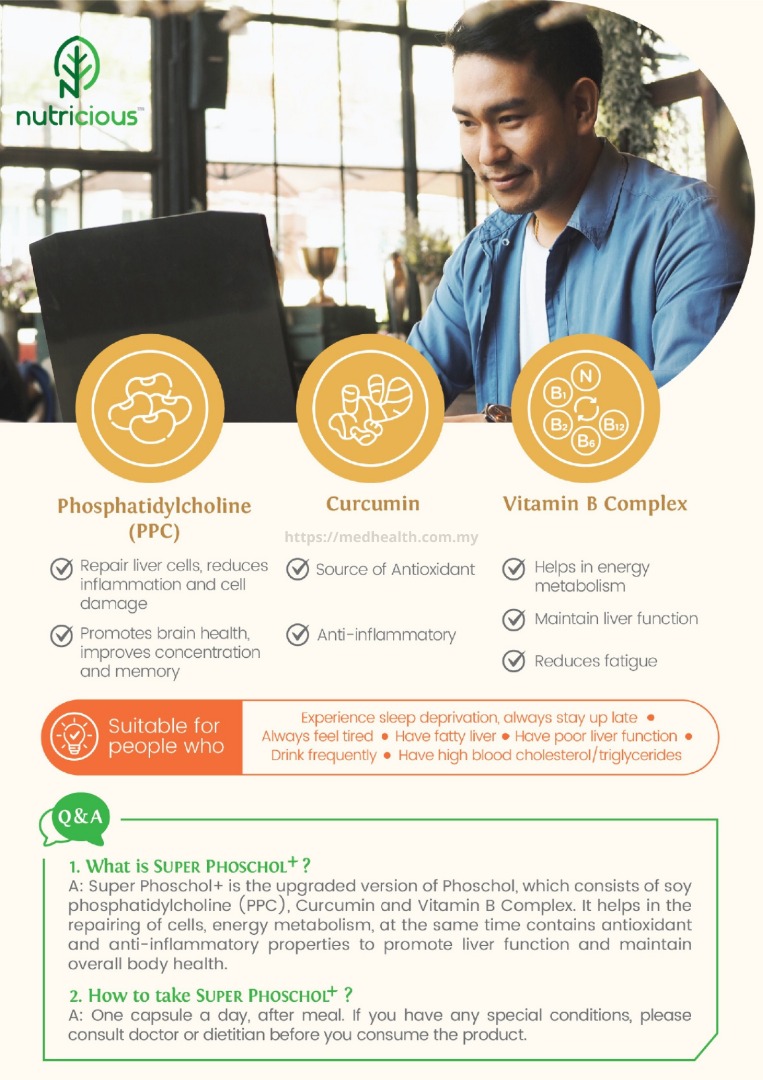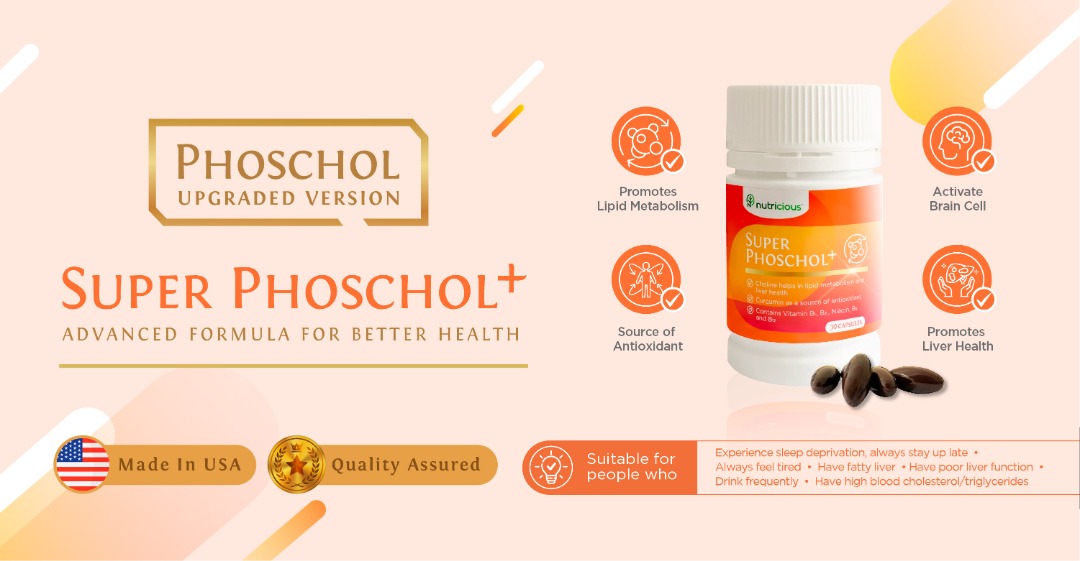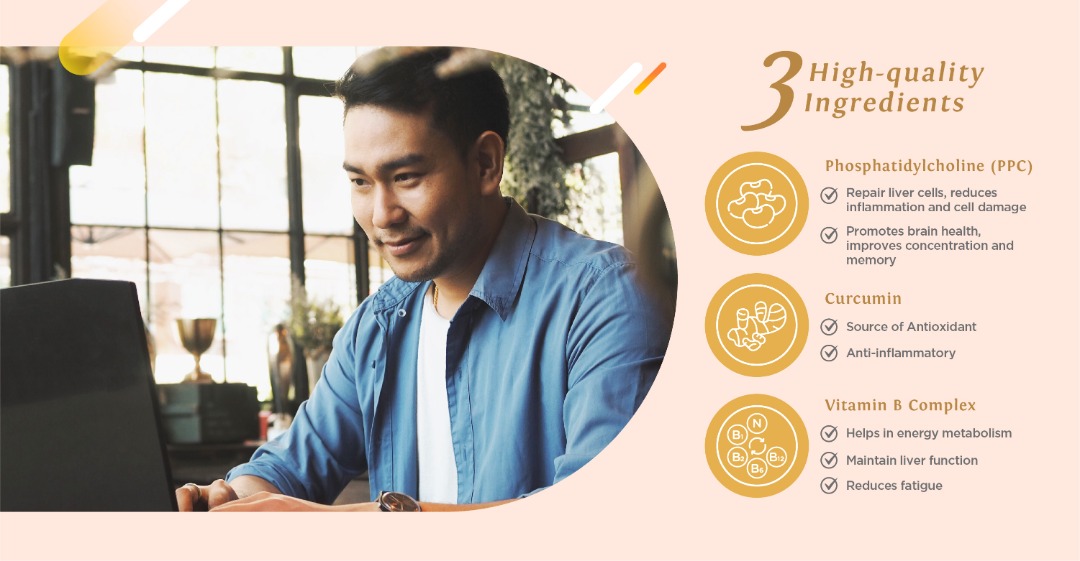 SUPER PHOSCHOL+ FAQ (Frequently Asked Questions)
Q1 What is SUPER PHOSCHOL+?
A: Super Phoschol+ is the upgraded version of a previous MJ product, Phoschol, which consists of soy phosphatidylcholine (PPC), curcumin, and vitamin B complex. It not only helps in the repairing of cells, improving metabolism, it also has antioxidant and anti-inflammatory properties to promote liver function and maintain overall body health.

Q2 Is SUPER PHOSCHOL+ safe to consume?
A: Yes. Super Phoschol+ is acknowledged with internationally recognized GMP that ensures the level of safety and quality of the product. Hence, it is totally safe for consumption.

Q3 How to store SUPER PHOSCHOL+?
A: Super Phoschol+ should be stored in a cool and dry place. Please keep the container tightly closed after opening to prevent moisture. It is recommended to finish within 2 months after opening.

Q4 Who is suitable to consume SUPER PHOSCHOL+?
A: Super Phoschol+ is a nutritional supplement for the liver, it helps in cell repair and at the same time activates brain cells and relieves fatigue. It is suitable to use as a daily health supplement for: - Those who need to take care of their liver function - Those who do not get enough sleep and often stay up late - Those who are easily fatigued and have a poor energy level - Those who have regular drinking habits

Q5 If I am taking certain medicines prescribed by the doctor, or having any medical condition, can I still take SUPER PHOSCHOL+?
A: If you are on long-term medication, intake of Super Phoschol+ has to be at least 2 hours apart from your prescribed medicines. Should you have any special conditions, please consult a doctor or dietitian before consuming the product.


Q6 Who is not suitable to consume SUPER PHOSCHOL+?
A: Super Phoschol+ is designed for daily liver function care in adults. However, for specific groups of people, it should be consumed after evaluation by the doctor, dietitian, or other healthcare professionals. For example, pregnant women, breastfeeding women, etc.

Q7 How to take SUPER PHOSCHOL+ and what is the recommended dosage?
A: It is recommended for adults to take one capsule daily, preferably after meals for health maintenance purposes. If you have special health conditions, please consult your MJ health management consultant to provide you with appropriate suggestions based on your health conditions.

Q8 Should I refrain from combining SUPER PHOSCHOL+ with other health supplements?
A: You can continue to take your other health supplements along with Super Phoschol+.

Q9 Can SUPER PHOSCHOL+ be consumed in the long term?
A: Super Phoschol+ is a nutritional supplement that regulates body functions and can be consumed in the long term. Through Super Phoschol+ supplementation, we hope to help consumers achieve better health. However, it must be emphasized that all kinds of nutritional supplements are only intended to support metabolism or regulate body functions, therefore adequate exercise, a change in diet and lifestyle are still essential to achieve good health.

Q10 How long should it be consumed to see health improvements?
A: The product is intended to improve health according to each individual's condition. While the deterioration of metabolic functions is not formed in a day, it will take some time for the body to adjust and repair itself. Generally, red blood cells responsible for oxygen transportation have a life cycle of 120 days, therefore usually 3 months is the basic time frame, and do allow at least 6 months for overall health improvement. The more serious your health condition is, the longer the time it will take for health improvement. After all, health problems are not caused in a day. In order to improve health, not only nutritional supplements, but an adjustment in lifestyle, diet, and exercise are also important to improve health.

Super Phoschol +