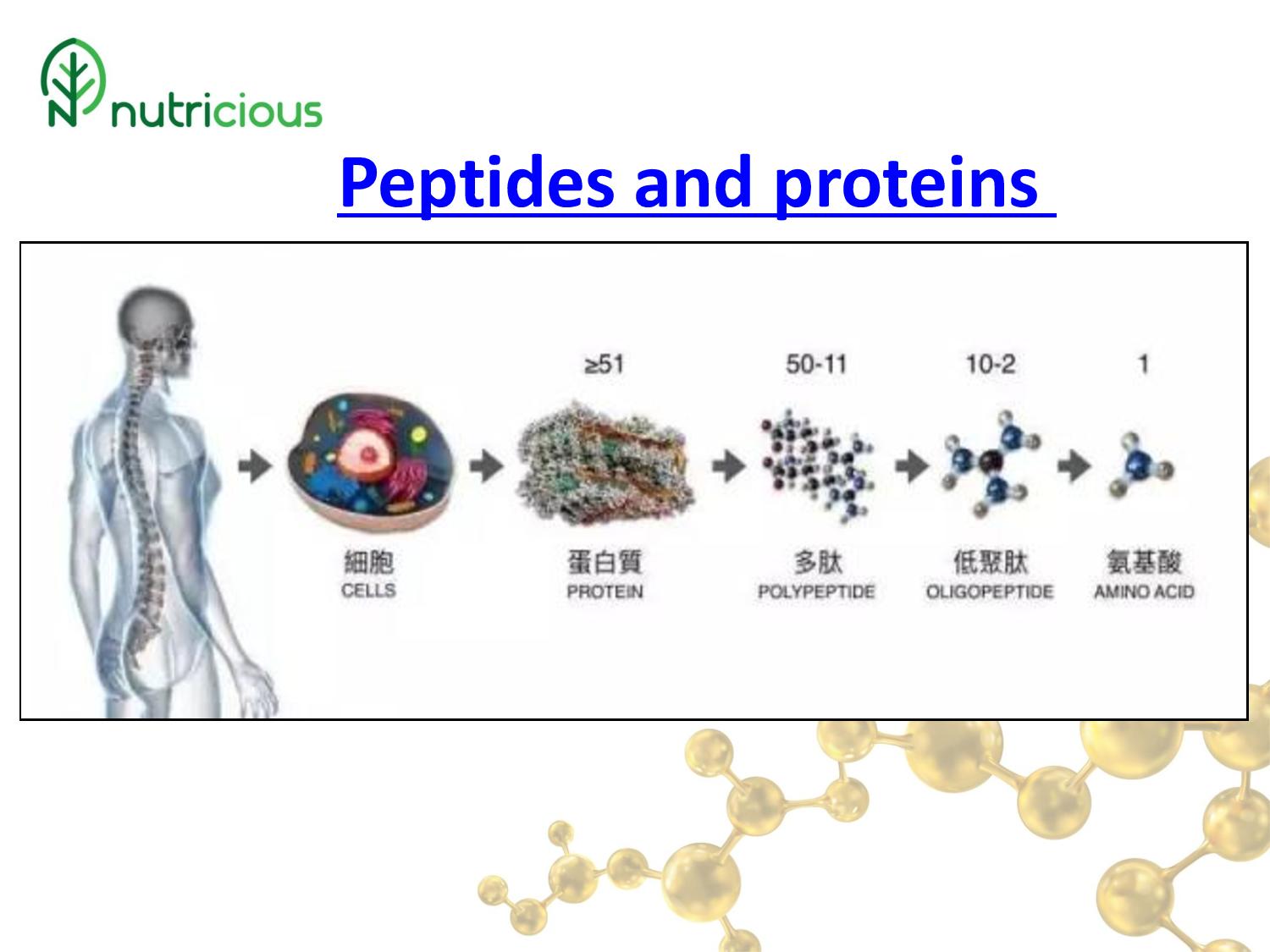 Peptide & Protein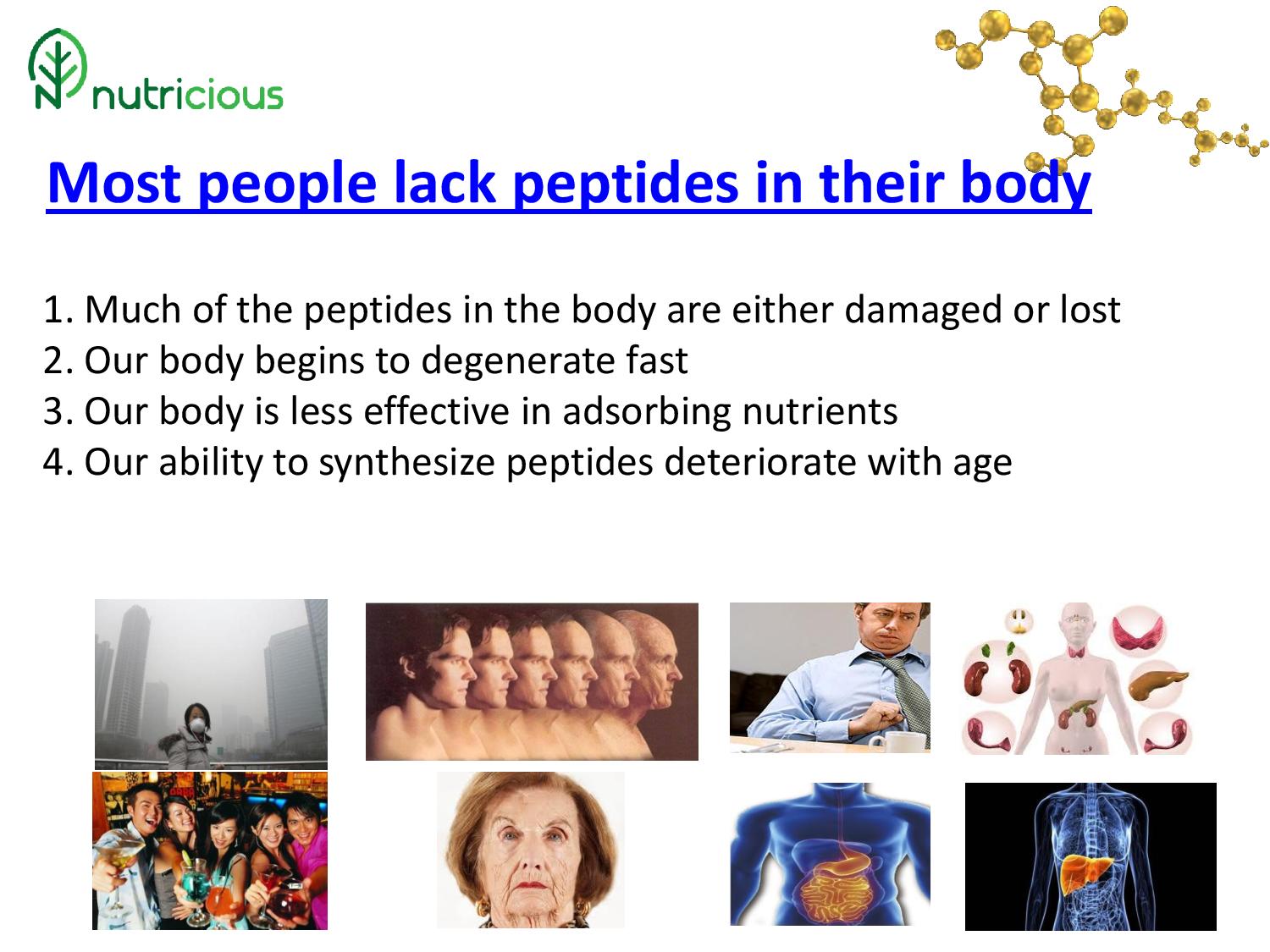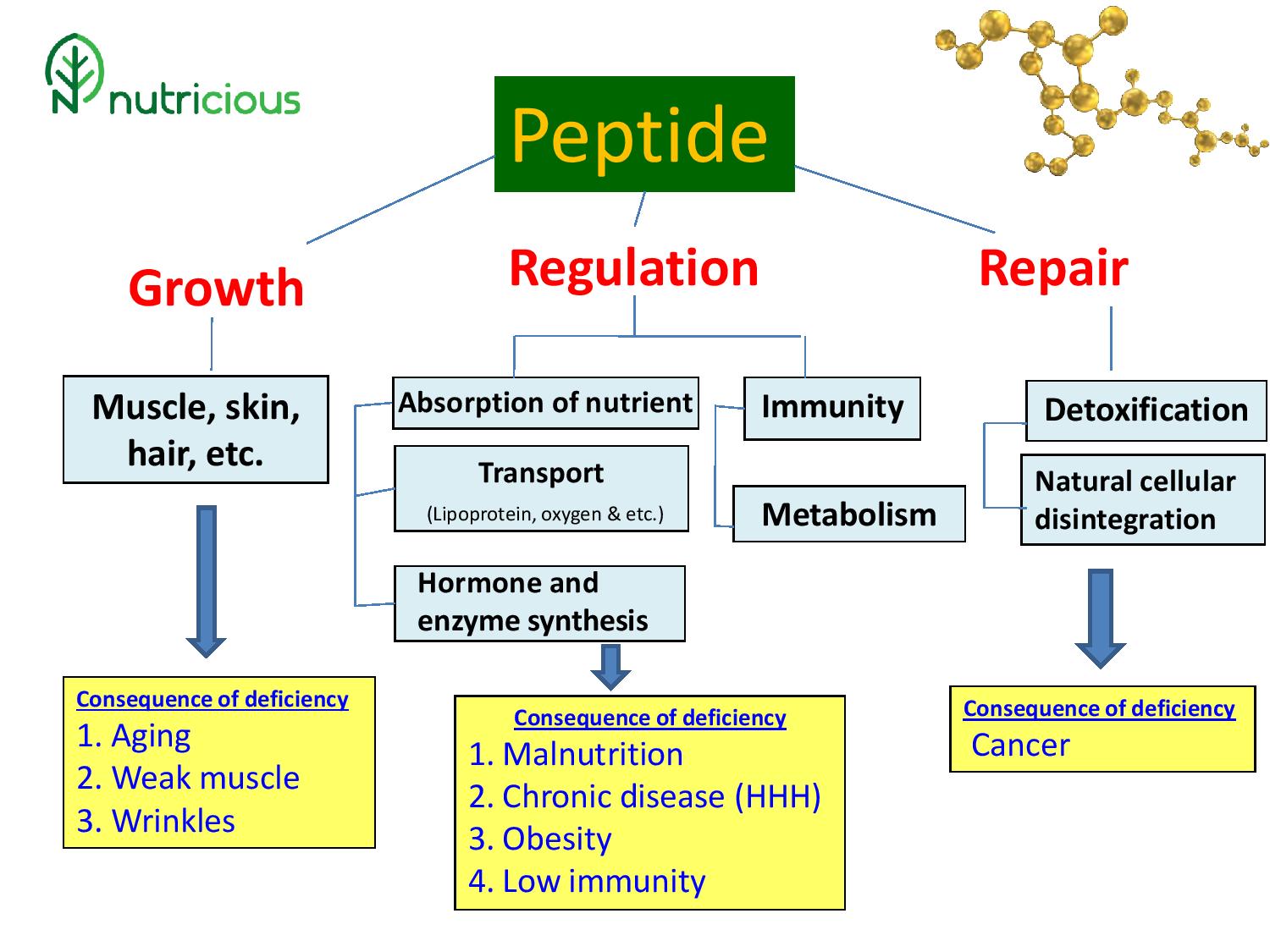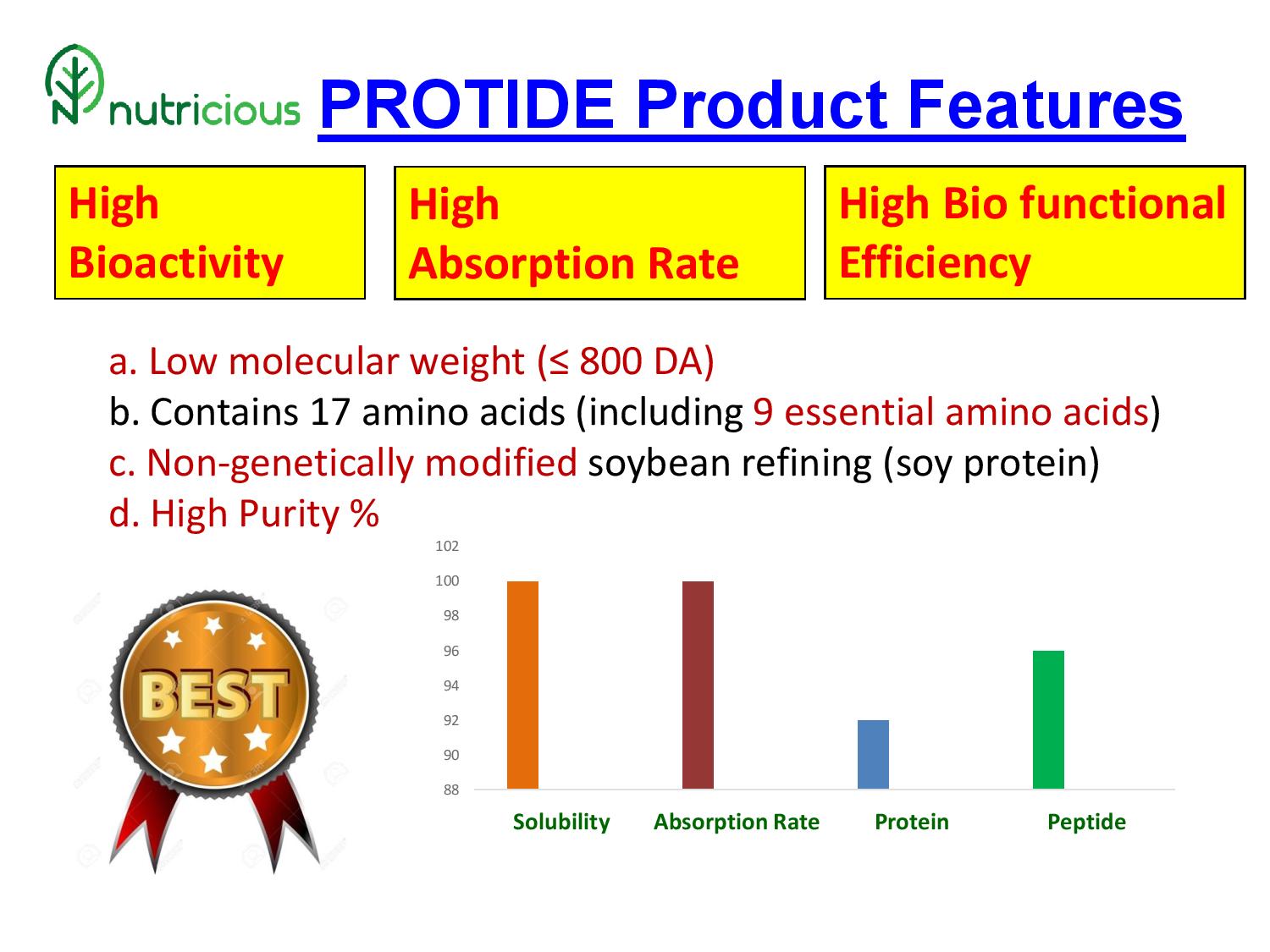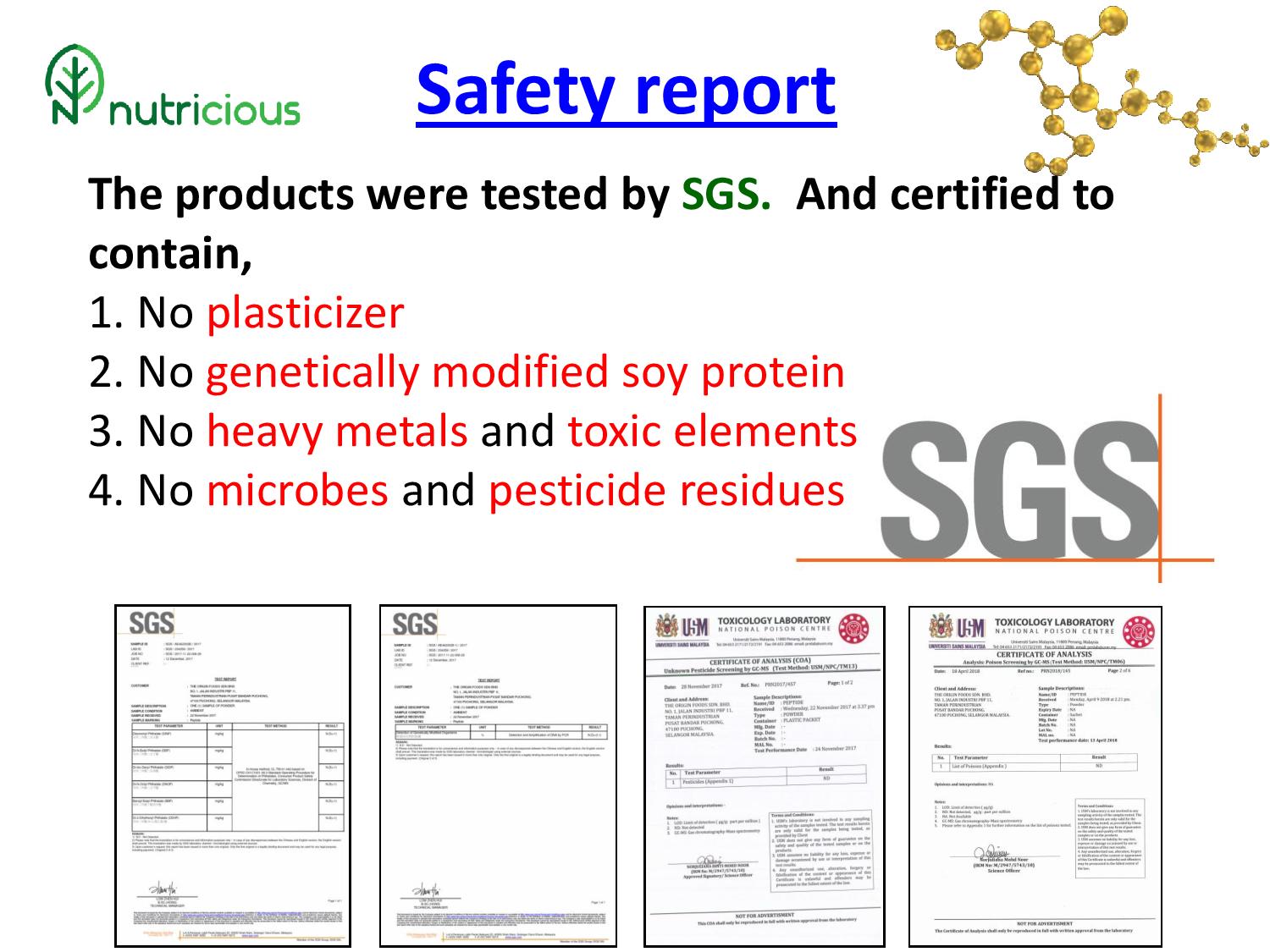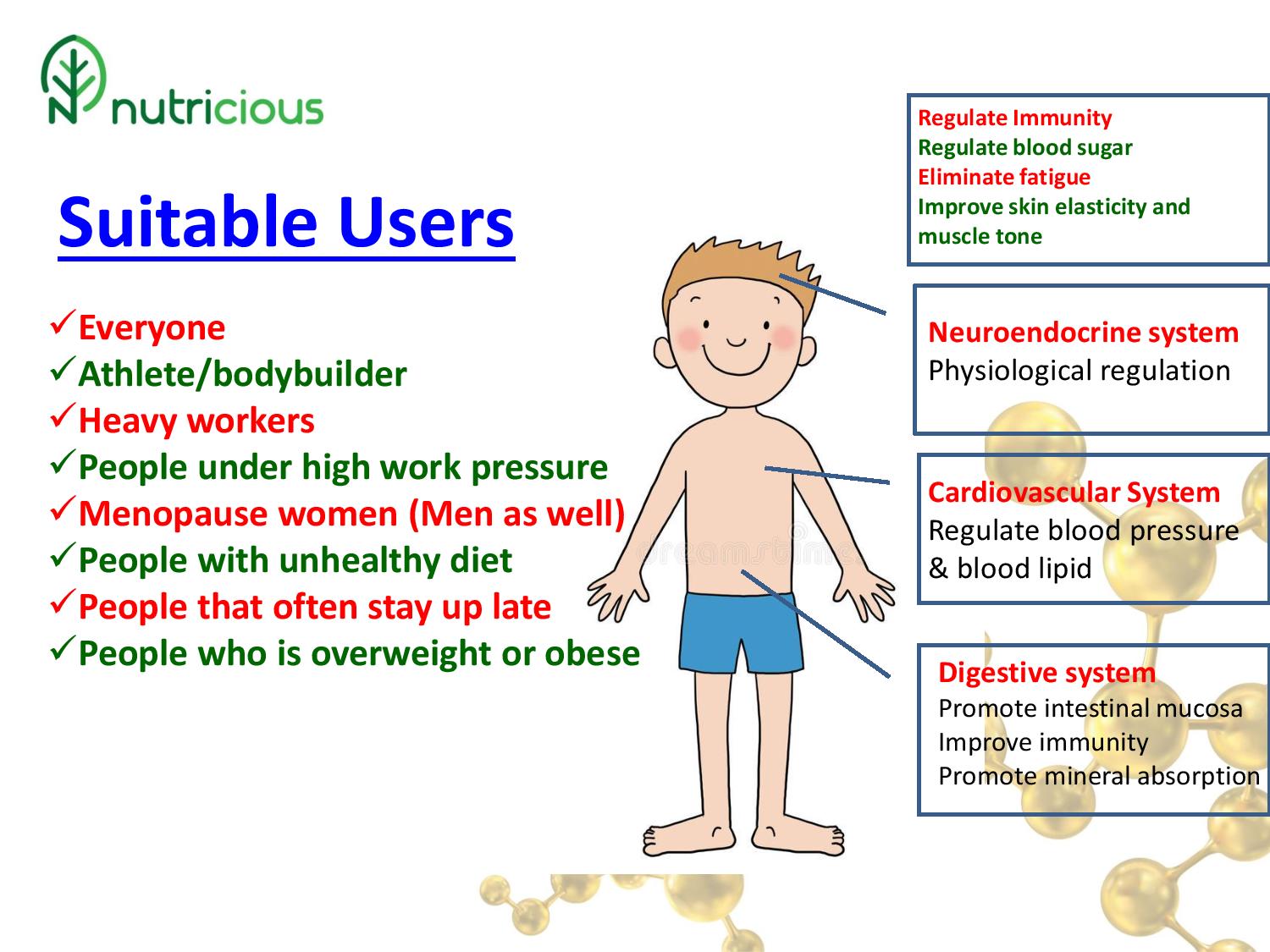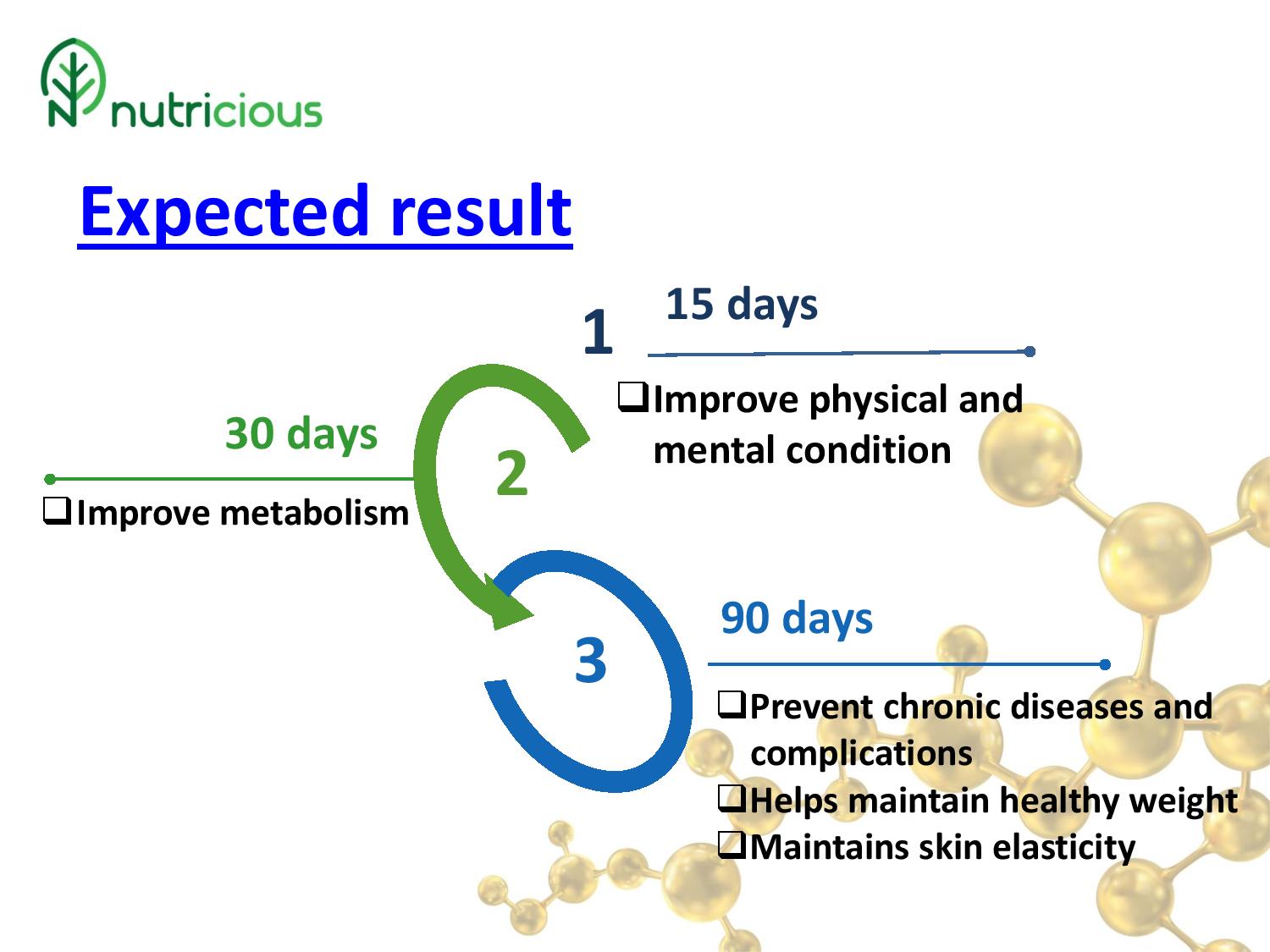 PROTIDE Soy Protein Beverage (FAQ)
Q01 WHAT IS PROTIDE?
A: PROTIDE contains enhanced small bioactive peptides (Oligopeptides). These peptides are composed of 2-10 amino acids, they are the intermediate substances (between amino acid and protein) which can provide nutrients to the cells.
Q2 HOW TO STORE PROTIDE?
A: PROTIDE is produced with high stability. Please store it in a cool and dry place (below 40°C). If the sachet is not finished after it is opened, please keep it in a refrigerator (below 10°C) and finish it within two days.
Q3 IS PROTIDE SAFE FOR CONSUMPTION? IS IT SUITABLE FOR VEGETARIANS?
A: PROTIDE has gone through various tests and quality inspections, and we only provide products with the highest quality to our consumers, hence please confidently consume them.
Does not contain plasticizer

Does not contain heavy metals and toxic elements

Does not contain microorganisms and pesticide residues

Does not contain genetically modified tissue
PROTIDE is extracted from pure soybeans, hence it is suitable for vegetarians.
Q4 HOW DO I KNOW THAT I AM SUITABLE FOR PROTIDE?
A: PROTIDE contains small peptides that are nutrients required by the cells. Therefore, it is suitable for everyone to consume to provide the cells with nutrients for growth, regulatory function, and repairing function, leading you to a healthier life.
Q5 IF I AM TAKING MEDICATIONS PRESCRIBED BY A DOCTOR, OR MEDICATIONS FOR CHRONIC ILLNESSES, CAN I STILL CONSUME PROTIDE?
A: If you are currently undergoing medical treatment, or on long-term medications for chronic illnesses, the consumption of PROTIDE should be at least 2 hours apart from your medications. If you have any special health conditions, please consult your doctor, nutritionist, or other healthcare professionals before consuming it.
Q6 WHO IS NOT SUITABLE TO CONSUME PROTIDE?
A: Although PROTIDE is extracted from natural soybeans and it has established a lot of good reputation and testimonies in the market, we recommend that the suitability of consumption for these specific groups be evaluated by health professionals such as doctors and health management consultants before consuming it, including:
1. Those who are allergic to soybeans and soybean products
2. Infants under 1 year old
3. Those who are pregnant and have a sensitive body
Q7 WHAT ARE THE PRECAUTIONS WHEN CONSUMING PROTIDE?
A:
1: Use with caution in patients with gout and kidney disease. Consume only half of the amount recommended for normal adults.
2: As PROTIDE has acidic properties, it is easy to cause flocculation of other proteins. It is recommended not to consume it at the same time with milk and tea, while it can be consumed after an interval of half an hour.
3: In order to ensure better absorption of PROTIDE, it is recommended to consume it before meals in the morning or afternoon (on an empty stomach).
Q8 HOW TO CONSUME PROTIDE?
A:
1: Mix 1 sachet into 100-150ml of lukewarm water (30°C-40°C), stir well to dissolve evenly and consume it.
2: Consume it on an empty stomach, half an hour before a meal or 2 hours after a meal. It should be consumed at least 2 hours apart from any medications for chronic illnesses.
3: In order to ensure better absorption, it is recommended to dissolve PROTIDE in water for consumption, and avoid eating the powder directly to avoid the risk of choking.
Q9 WHAT IS THE SERVING SUGGESTION OF PROTIDE?
A: It is recommended to take 1-2 sachets per day. If you have any inquiries, please feel free to consult our health management consultant.
Q10 HOW IS THE APPEARANCE OF DISSOLVED PROTIDE SOLUTION, AND WHAT IS ITS FLAVOR LIKE?
A: PROTIDE is extracted from soybean protein. After being dissolved in water, it should appear as a clear yellowish solution, which is the natural color of soybeans. Decolourizing it will affect the balance of amino acid composition and efficacy of soybean peptides. Other than that, the flavor is slightly bitter and has a unique flavor (similar to cordyceps or chicken essence).
Q11 ARE THERE ANY FOODS THAT SHOULD BE AVOIDED AFTER CONSUMING PROTIDE?
A: Refrain from taking foods that are high in fat, sugar, salt, and overly refined. This is to help in achieving overall health improvement regardless whether PROTIDE is taken.
Q12 CAN I TAKE A HIGHER DOSAGE FOR BETTER EFFECT?
A: PROTIDE is a natural nutritional supplement that obtained countless testimonies and good reputations after the consumption of many consumers. We encourage consumers to take PROTIDE as a nutritional supplement to allow the body to regulate and repair itself, however, consumers should take note that this is not the only method.
It is recommended that you visit us at MJ Health Screening Center for a comprehensive health screening with Micro Physiological Assessment (MPA) to understand your health condition better. Our health management consultants will advise you on your diet and exercise plan, at the same time recommend suitable nutritional supplements based on your needs.
Q13 WILL THERE BE ANY EFFECT IF I OVER CONSUME IT?
A: Please keep it within the recommended daily intake, or follow the amount recommended by your health management consultant. Although PROTIDE is a natural nutritional supplement, overconsumption will cause discomfort due to excessive recovery symptoms. The best way is to consume regularly and with perseverance according to the recommended amount, at the same time combine with diet and lifestyle changes for greater health benefits.
Q14 SHOULD I REFRAIN FROM COMBINING PROTIDE WITH OTHER HEALTH SUPPLEMENTS?
A: You may continue taking other health supplements while consuming PROTIDE. PROTIDE will not inhibit other health supplements. At MJ, we specifically categorize nutritional supplements into different groups such as for repair and maintenance, hoping to provide a complete range of health protection to the consumers.
Q15 CAN PROTIDE BE CONSUMED LONG TERM? WILL THERE BE ANY SIDE EFFECTS?
A: Side effect refers to reactions of the body caused by certain medications. The same reactions will occur in anyone, and will not change over time. For example, some medications are prone to cause drowsiness. PROTIDE is made from natural plant extracts, hence there will not be any side effects and it is safe for long-term consumption. Through the consumption of PROTIDE nutritional supplements, we hope to help consumers to achieve better health. However, it must be emphasized that all kinds of nutritional supplements are only intended to support or regulate body functions. Thus, adequate exercise, a change in diet and lifestyle are still essential to achieve optimum health.
Q16 HOW LONG SHOULD PROTIDE BE CONSUMED TO SEE HEALTH IMPROVEMENTS?
A: Nutritional supplements are intended to improve health according to each individual's health condition. While the deterioration of metabolic functions is not formed in a day, it will take some time for the body to adjust and repair itself. Generally, red blood cells responsible for oxygen transportation have a life cycle of 120 days, therefore usually 3 months is the basic time frame, and do allow at least 6 months for overall health improvement. The more serious your health condition is, the longer the time it will take for health improvement. After all, health problems are not caused in a day. In order to improve health, not only nutritional supplements but adjustments in lifestyle, diet, and exercise are also important to improve health.
Q17 CAN I TAKE PROTIDE WHEN I AM HAVING MENSTRUATION?
Disclaimer: All information, content, and material of this website is for informational purposes only and are not intended to serve as a substitute for the consultation, diagnosis, and/or medical treatment of a qualified physician or healthcare provider.